Adult coloring books are very popular. Although sales peaked in 2015, they were very popular during the recent pandemic. Some of the top books made and still do make thousands of sales.
Today, there are thousands of different adult coloring books on Amazon in all genres. So, how do you create them?
Adult Coloring Books – The Process I use
The first thing you will need after you've come up with the idea for a coloring book is some images. I get my images from Creative Fabrica, you can get your images from other image sites such as Vecteezy, but Creative Fabrica offers a huge choice and also offers a free trial. Failing that, you can purchase various packages at very low prices or do an all-in deal for a monthly fee.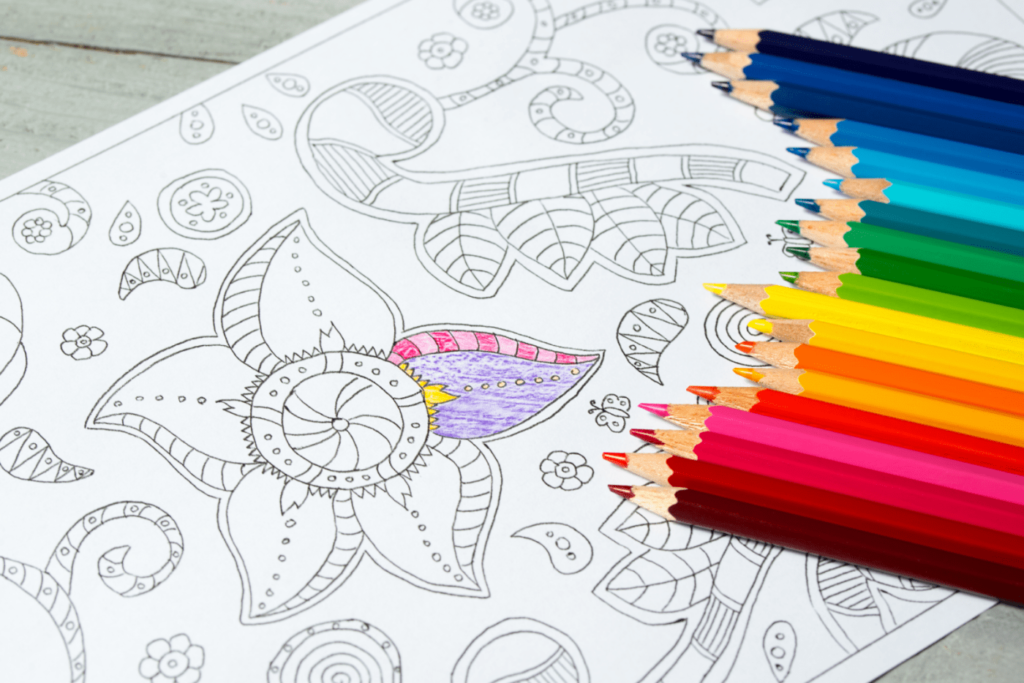 I tend to go with the monthly fee option as I am always creating coloring books, hence, it's good to have all those images on-tap. They also have interiors for other low-content books, such as planners etc.
Once I have decided on a good theme, I search Creative Fabrica for enough images to fill the book. If you are creating a 100-page book, you will need around 50 images as each image page should be followed by a blank page, so the coloring from the previous page doesn't bleed through and spoil the next image.
Once I have the images, I put them all together in a folder on my desktop. When sourcing images, make sure you use .png images for your book, or if you want to be more adventurous and edit the images yourself, use vector images from Vecteezy and a vector editing program such as Affinity Designer.
However, if you want to keep it simple, at first just use Creative Fabrica
Adult Coloring Books – The Interior Pages
The next stage is fairly easy, you are creating the interior pages of your book. For this I use Canva. Once you've signed up for free you can start to create your interiors. There is a paid version which I do recommend as it gives you a lot more choice when it comes to interiors, plus they have lots of images that you can use for free if you do have the premium version.
When you have signed up to Canva, you will see a big purple button in the top right-hand corner of your project page which says "Create Your Design". Click that and scroll down, you will see "custom-size" on the bottom of the scroller. Click the "+' button and choose the size of your book pages. I normally do all my book interiors for coloring books at 8.5" x 11.0. This is a fairly standard size for adult coloring books.
Once you have selected your sizes, you will be presented with a page. You also have a little grey box under the page that says "Add Page". You can click this as many times as the number of pages you want. Canva now allows you to have over the 100-page count so if you make your first two opening pages the Title Page and the "This Book Belongs To:" and your last page, your "Outro Page", you will need approximately 103 pages if you have 50 images, 50 blank pages, two opening intro pages and one outro page at the end.
Adult Coloring Books – Keep It Original
Make your adult coloring book as original as you can. Make sure that you have the business licenses for the images. These are normally included in the downloading process, You will need permission to use them in a commercial project. Once you have licenses to use the images, try to make the images as original as possible. You can do this by mixing images together, adding your own original quotes over a background image, and generally making your book as original and enjoyable for the customer as possible.
Remember: You want good feedback on your books in order to sell them. You get good feedback by overdelivering on value and giving the customer a great coloring experience. Don't rush the production of the book and end up delivering a piece of tat.
Remember: Choose to create quality at all times. Here are some good examples of Adult Coloring Books
Adult Coloring Books – The Next Step
Once you have decided on your page size and your page count. Use the text feature in Canva to create your introduction pages. Then upload your images one at a time on every alternative page. When you get to the end of the book, create your outro page with text.
You have now completed your interior. Well done.
Next, you will want to download the interior as a print-ready pdf (300 dpi) file so you can upload it to KDP. You will now need a cover. For coloring books, there is a trade-off. They sell at relatively low prices, $5.99, $6.99, etc, therefore the actual royalties are fairly low. In order to meet this trade-off, you will want your expenses to be fairly low. I tend to get all my coloring book covers done on Fiverr.com.
There are plenty of good sellers on there who can create a nice cover for you. Don't forget to give them the Title, the Subtitle, the number of pages, and the trim size (8.5″ x 11.00″). Also, give them the author or pen name you use if you want to include it on the cover.
Once you have received the cover back. You will need to upload the interior and cover in pdf format to KDP. Here is some useful information about publishing your book on Amazon
If you want to know more about self-publishing books on Amazon, or writing a book for Amazon, click this link for more information on some of the books I've written
I hope you have found value in this post. If you have, please do leave a comment below and share the post if possible.
Good luck in your Adult Coloring Book venture.
Have a great day.
Keith